Do you have some fur yarn in your stash but no idea how to crochet with it? When I got my pattern tested recently, the difficulty of working with fur yarn kept coming up in my tester group. With the help of my tester Kaitlyn, I have put together a tutorial for how to Tunisian crochet with fur yarn. You can read through some of the tips below or go straight to the full video tutorial! I have some fun designs coming with this yarn so it would be good to get some practice working with this yarn!
This post includes Amazon affiliate and Share-a-sale affiliate links for which I may get a small commission at no extra cost to you.
Here's a quick tutorial of how to work with fur yarn. Here, I show you some tips and tricks to use while doing Tunisian crochet with faux fur yarn. I will be releasing a free pattern soon using this yarn. Make sure you are signed up for my newsletter so you don't miss out!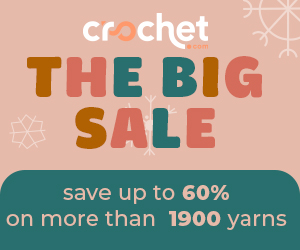 Materials needed to Crochet with Fur Yarn:
Denise Interchangeable Tunisian crochet hook Size 17 12.0 mm Tunisian Crochet Hook. Buy the complete set here
Yarn: Any faux fur yarn such as We Crochet Fable Fur Yarn
Contrast yarn: Lion Brand Wool-Ease Thick and Quick
Clover Yarn Needle
Clover Locking Stitch Markers
My 3 Main Tips when working with Faux Fur Yarn:
1. Feel for the yarn
Make sure you feel for each stitch before working into it so you know you're putting your hook through the right space.
2. Use a bright contrasting color yarn to hold your stitches as a lifeline.
Below you can see how Kaitlyn used a contrasting piece of yarn to indicate where each stitch is.
Here she laid the yarn back and forth across the working yarn as she created the foundation chain so that she could find the back bumps.
If it's hard for you to do this, just feel for the stitches. It's also okay to go into the front of the stitch if you can't find the back bumps since it's hard to tell the difference in stitches due to the fuzzy/fluffy nature of fur yarn! When you make the foundation chain make sure your tension is a little bit loose so the stitches are not too tight and it's easier to go into them!
Then she weaved the yarn through the Tunisian simple stitch loops of the forward pass to create a lifeline if she accidentally drops or misses any on the forward or return pass.
And this is how that looks after the return pass.
Photo credit: Kaitlyn of @kaleidostitch on Instagram, follow all of her work here.
3. Always count stitches after every row.
Make sure you count your stitches after every single row because it is very easy to lose stitches when working with fur yarn! So yes, you have to count after every single row!
You can also use locking stitch markers to see where your first and last stitch are on each row!
If you've been wanting to crochet with faux fur yarn, watch this Tunisian crochet tutorial and get started! I take you through some basic steps for how to Tunisian crochet with fur yarn. You can also subscribe to my channel to get more crochet tips and tricks for beginners, learn new Tunisian crochet stitches, and more! I hope you enjoyed this yarn hack!
Watch the full video tutorial below!
You can find other Tunisian crochet stitch tutorials as part of this playlist.
Follow my work:
If you have been wanting to learn Tunisian crochet, make sure you check out my beginner washcloth kits on Etsy here.