An easy crochet ear warmer pattern free for a knit like crochet ear warmer made with wool! A Quick chunky crochet ear warmer pattern.
Keywords: easy crochet ear warmer pattern free, crochet ear warmer patterns free, one hour crochet ear warmer, crochet ear warmer headband, crochet ear warmer pattern for beginners, chunky crochet ear warmer pattern, twisted headband crochet pattern free, knit like crochet hat, knit like crochet, knit like crochet stitch, easy crochet stitch that looks like knit, crochet stitch that looks like knit ribbing, crochet knitting patterns, knit like crochet beanie, knit like crochet pattern, knit stitches that look like crochet, crochet pattern that looks like knitting, Tunisian crochet that looks like knitting, knit like crochet stitches
CROCHET LIKE KNIT EAR WARMER INSPIRATION
This pattern is for an easy reversible Tunisian crochet knit like crochet ear warmer made with wool! This is a cozy and elegant ear warmer that will be the perfect accessory this Fall and Winter. It's the perfect project to make if you want a knit-like ear warmer but don't know how to knit!
I have been experimenting a lot with the Tunisian knit stitch and I decided to figure out some knit like crochet stitches. I especially love the look of knit cables so I wanted to give it a try in Tunisian crochet. The left twist knit stitch creates a beautiful cabled texture which also looks like the front post crochet stitch. They also remind me of the beautiful woods hence the name Winding Woods Ear Warmer! I received this gorgeous Audine Wools Mellow yarn in High and Dry in my September Knitcrate Box and I couldn't get over the color and I instantly thought of an ear warmer and hopefully a set of fingerless mitts that I hope to work up soon!
You can read more about Audine Wools Mellow Yarn HERE.
It's also the season for quick crochet projects as you all are probably working on gifts or preparing inventory for your craft fairs and how cute would the Winding Woods Ear warmer look in the mix! I realized after I finished it that it was equally beautiful on the wrong side as it was on the right side and the seam just gets blended in as long as you weave in your ends well. SO that makes this pattern a REVERSIBLE crochet ear warmer!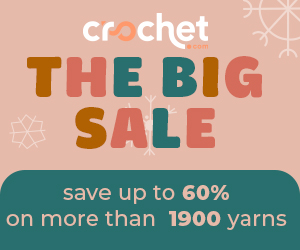 KNIT LIKE CROCHET EAR WARMER ABOUT THE PATTERN
About the Pattern:
Skill Level: Advanced Beginner

Yarn:
Audine Wools Mellow in High and Dry (70 yards) (125 yds/100g skein, 3.53 oz.; size 5, 80% Alpaca and 20% Tencel)
Yarn Substitutes: Lion Brand Yarn Scarfie, We Are Knitters The Petite Wool
Hooks:
Size L (8 mm) Tunisian crochet hook with 8 in. cord and stopper, Get my favorite Clover Takumi Tunisian crochet set HERE
Notions:
Gauge:
Gauge is 14 st. over 10 rows in Tunisian Simple Stitch for a 4 x 4 in. square
Finished Size:
The finished ear warmer size is 3 in. wide by 9.5 in. in length when laid flat (doubled over), fits head circumference of 21.5 in.
The ear warmer can be adjusted by doing more or less rows of the pattern.
Through the rest of November, use the coupon code BLACKFRIDAY22 and take 50% off your order in this Black Friday Collection. This discount applies in addition to the Member discount of 50% (active members only).
Knitcrate November 2022 yarns have been added to the sale collection first; other past yarns may be added later on.
Offer expires at 11:59 PM EST on Wednesday, November 30, 2022, is not combinable with any other coupon codes and cannot be applied to past orders. Shop here to get your favorites while they last!
IMPORTANT VIDEO TUTORIALS
This pattern uses a few Tunisian crochet techniques. Use the following video tutorials as needed:
Pattern rows are Forward pass instructions.
The following instructions are implied:

The loop already on the hook at the beginning of the row counts as the first st.
Always TSS in the last st of the row, being sure to work under both loops of the st.
Return Pass: Follow the foundation row and each row with the Return Pass in the same color.

Return Pass Instructions: Ch 1, *yarn over, pull through two loops; repeat from * until 1 loop remains on the hook.

TLks: Tunisian Left Twist Knit Stitch: Sk st, tks, work tks into skipped stitch
Abbreviations:
Ch: Chain
Sk st: Skip stitch
TLks: Tunisian left twist knit stitch -Explained above
Tps: Tunisian purl stitch
RetP: Return Pass -Explained above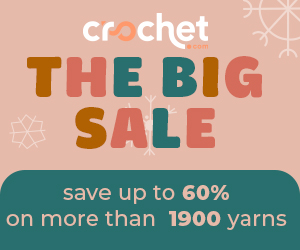 KNIT LIKE CROCHET EAR WARMER PATTERN INSTRUCTIONS
Pattern Instructions:
Ch 14
Row 1 (Foundation Row): Pick up a loop in the back bump of each chain. Complete normal RetP. (14 sts)
Row 2: Tps, (TLks, tps 2)* rep * until there are 2 sts remaining, tps, work last st as normal (14 sts)

Repeat row 2 for the length needed to match your head circumference) For reference, my head circumference is 21.5 inches and I continued the pattern for 19.5 inches. Make sure you keep checking if it will fit by wrapping around your head as you're completing it. Once you reach the desired length, leaving a long tail, cut yarn (approximately 8 to 10 inches). This tail will be used later for seaming up the ear warmer.
*Note: the ear warmer will stretch over time so you could make it on the tighter side.
Use this formula to calculate approximately how long the ear warmer should be if you're using a wool-blend/yarn that has stretch to it:
Head circumference – 3 in. = Length of ear warmer in inches
Use this formula to calculate approximately how long the ear warmer should be if you're using a yarn that doesn't have stretch to it:
Head circumference – 2 in. = Length of ear warmer in inches
But still be sure to try it out as you go to make sure it fits correctly.
Fold the ear warmer over with the wrong side facing, join the ends of the ear warmer together with whip st or using your preferred method of seaming using the tail left at the beginning or a long piece of yarn. Weave in any loose ends. Leave it or turn it right side out depending on which side you like better and enjoy your finished make!
FURLS x JONAH
Furls released a new kit in collaboration with THE Jonah! Jonah's Teza Throw Crochet Pattern Kit. This Teza Throw Crochet Kit is incredible and a wonderful work of art, truly.
The kit consists of 17 Wander skeins, hook, tote, and digital pattern. You can customize the colors by choosing the main and contrasting colors of yarn along with choosing a Streamline Resin hook.
There are also two new Special Edition Alpha hooks, Maple + Black, and Maple + Red. These two Special Edition Alpha hooks feature a unique acrylic and wood design with swirls of black, and red in each hook.
FURLS SPECIAL EDITION HOOKS
WANT A NEW RELEASE FOR 25% OFF?
SIGN UP FOR EARLY ACCESS!
Get Furls Black Friday sales ONE WEEK before the general public!

Including a NEW Streamline Resin hook that is dropping on November 22nd.


You are done! Have any questions? The best way to reach me is via email: [email protected]
Share your finished ear warmer with me on social media using the hashtag #WindingWoodsEarwarmer for a chance to be featured!
Instagram @noorsknits Facebook @noorsknits1
Join my Facebook group HERE
This is an original pattern from Noor's Knits, ©2022. Please do not reprint, repost, or sell any parts of this pattern, but feel free to link back to my blog. You are welcome to sell finished items made from this pattern but please kindly link back to my website. Send questions to [email protected].
Check out these other patterns you might enjoy!